The world has changed tremendously over the past three years with the prominence of COVID19. As a consensus, it has made many people and communities warier of how fast infections can spread and how the right measures can be implemented to reduce the risk of transmission. Where many would have previously not considered the hygiene or sanitisation of surfaces they are surrounded by, COVID19 has made people more conscious of how easily they can get sick in a poorly cleaned environment. 
These changes in perception have impacted all industries across the country. However, the travel industry has been one of the hardest hit, as patrons of hotels, resorts, planes, cruise liners and public transport have seen the long-term implications of poor ventilation and germs.
While there is little that hotel managers can do to completely eradicate the current wariness of customers, building a reputation for cleanliness is essential during this time.
To do so, some extra steps that hotel managers, owners and staff can implement include: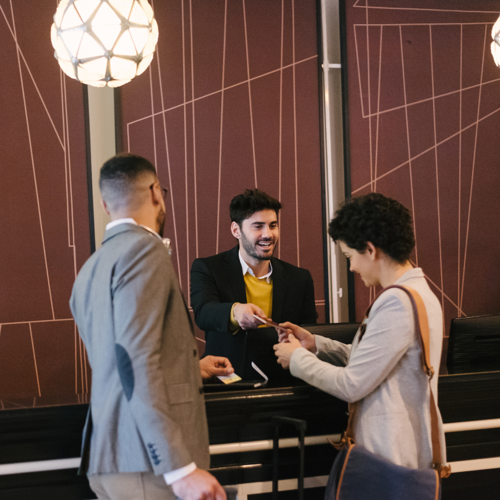 Implementing Regular Cleaning and Hygiene Routines
From reception desks to doorknobs and door handles, there are many high-contact areas in hotels. This means they are likely to carry high volumes of germs and bacteria, some of which could cause an infection to spread to patrons. 
So, hotels must have a strict cleaning schedule to keep high contact points clean and as infection-free as possible. Using an hourly, half daily, and daily cleaning checklist can ensure higher frequency guest routes remain sanitised and that all surfaces on the premise remain safe to touch and interact with. While all surfaces must be cleaned and disinfected throughout the day, the most common ones to consider include: 
Reception desks, especially where guests are likely to lean

Any flush buttons and taps in communal toilet settings 

Door handles providing access inside and outside of the main lobby 

Floors in high-traffic areas. 

Any kids' play equipment and toys in lobby or playground settings 
While regular cleaning is always essential, one way to reduce any transmission between cleaning periods is to encourage good guest and staff hand hygiene. Placing a Rubbermaid Touch Free Hand Sanitiser Dispenser will allow guests and staff to clean their hands frequently and remove any infection-spreading bacteria that may have come into contact with their skin. Having these stations in convenient locations, such as at entrances and next to high-contact surfaces, can encourage guests and staff to follow hand hygiene practices regularly throughout the day.
When using sanitiser stands, it's essential to add their maintenance and cleaning into the hotel's cleaning schedule. This will ensure they are refilled appropriately and that no person is left without access to hand hygiene solutions. 
Ensure all cleaning staff have the appropriate PPE 
While most guests will be out and about during cleaning hours, this is no excuse for the staff to slacken their cleaning standards, especially as some guests may return to the hallways while cleaning is taking place. As infections spread most commonly through the air, cleaning staff must be wearing face masks or face shields to avoid accidentally leaving infectious bacteria on surfaces when communicating with their team members. 
Using single-use gloves and paper gowns can also help avoid bacteria and germs from transmitting onto surfaces from the clothing and skin. They are the ideal barrier against transmitting infections and can keep guests feeling healthy during their stay.
Many cleaners will be tending to multiple rooms before having the chance to head back to a staff room or storage facility. For this reason, using a High Capacity Rubbermaid Janitorial Cleaning Cart equipped with a Utility Bin will help them effectively dispose of all single-use PPE and avoid cross-contamination between each room they tend to. It is also ideal for keeping all sanitisers and solutions orderly to speed up the cleaning process and certify all rooms receive as little exposure to external contaminants as possible.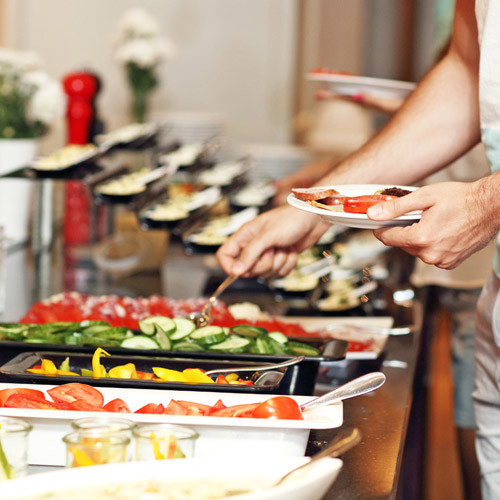 Keep any on-premises restaurants clean 
Though infections can spread in visibly clean environments, guests will subconsciously associate cleanliness with their health and safety. One of the highest contact points of all hotels, resorts and motels is typically the on-premise restaurant. Due to the quick turnaround of guests, any plates, cups or mess on the floor that is left behind for too long can quickly give off the idea that a venue isn't working to avoid the spread of germs. 
As such, there must be enough staff on the floor to clean any dishes, disinfect all surfaces and keep guests satisfaction to its highest possible standard. During these cleaning procedures, it is essential to remember to disinfect chairs, as these areas are likely to be carrying infectious viruses. Plus, if your guests see this deep cleaning taking place, they are more likely to rate you 5-stars on cleanliness.  
Just remember that youth seating, such as high chairs and tray tables, is just as important to sanitise. Simply use a microfibre cloth with a safe all-purpose cleaner to kill bacteria, germs and infections from these surfaces and restore each piece of furniture to a clean state. 
Some other considerations
Though there are endless procedures that hotel managers can implement to guarantee the cleanliness of their premises, some other key considerations include: 
Leaving at least 3 hours between guest check out and the next check in to allow rooms to be cleaned and ventilated. 

Define a cleaning schedule that is well communicated between all staff and cleaners and keep a record of when rooms are cleaned. This will guarantee that no areas in the hotel are missed or overlooked. 

Implement frequent staff training and refresher courses to guarantee that all staff are aware of hotel protocols, any procedural changes, and all cleaning requirements. 

Use high-quality cleaning materials to guarantee the best sanitisation and disinfecting processes. 
When you are looking for cleaning supplies that will get the job done right every time for your hotel premises, you can always trust the Rubbermaid range. Backed by years of quality, knowledge and expertise, the products and cleaning solutions are the best in the business when it comes to keeping all premises, including hotels, clean. Shop them by clicking here.