Experts predict that the COVID-19 pandemic will have far-reaching and long-term implications on traveler preferences and requirements.
The percentage of consumers who say that cleanliness will be 'very important' in choosing accommodation post-COVID.
The percentage of travellers who say that the disinfecting of high touch surfaces will be an important consideration for activities and attractions.
The percentage of consumers who will do more research (vs prior) when planning their next trip post-COVID.
As a result, it is more important than ever before to strive for a new level of cleanliness to assure guests and patrons of a facility's commitment to hygiene and safety.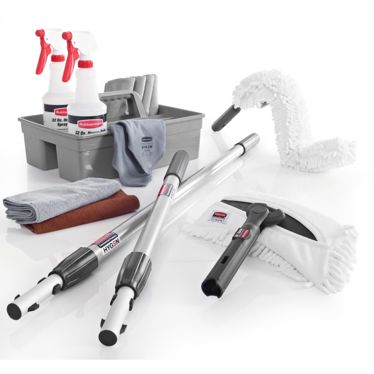 The Australian government estimates 8.7 million tourists visit Australia annually, and each and every one of those tourists are drawn in by something different. For some, it's the friendly people. For others, it is the gorgeous scenery or magnificent wildlife. But there is at least one thing that they all share in common: Every person needs somewhere to go to unpack their things, kick back and relax. Guests have many hotels and motels to select from, each with its own variety of accommodations, technological conveniences and creature comforts.
Regardless of the perks, each visitor rightly expects to see and smell cleanliness upon opening the door to their room - not just "fairly clean," or "clean enough," but immaculate, from gleaming kitchen floors and spotless countertops to freshly laundered linens and pristine bathrooms.
The only way to get every nook and cranny of each guest room as clean as it can possibly be is with the right blend of hotel cleaning supplies, solutions and resources. Your diligent staff will find everything they need with Rubbermaid Commercial Products, the hardest working, safest and most convenient disinfecting solutions on the market today.
According to a recent TripAdvisor survey, nearly 9 in 10 consumers indicate that hotel cleanliness will be "very important" when selecting hotel accommodations post-COVID(6). RCP's Hospitality A Higher Level of Clean guide provides targeted cleaning protocols and product recommendations to support hotels in identifying proper cleaning processes and tools with increased efficacy.
HOSPITALITY CLEANING GUIDANCE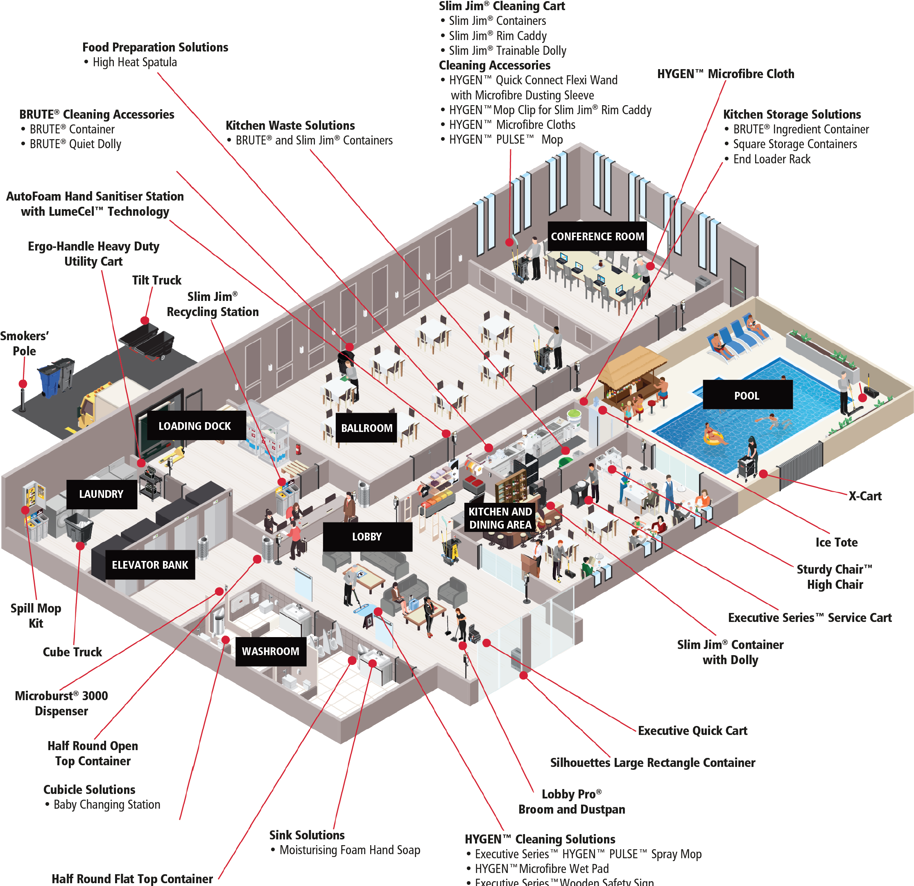 In many ways, the degree to which you keep your facility ultra-clean can help distinguish your hotel from the competition. These days, just about every hotel offers the same amenities to its visitors, be it WiFi internet access, air conditioning, 24-hour front desk service or complimentary continental breakfasts. Yet you can probably think of at least one place that you've stayed in that outshone all the others when it comes to delivering a level of tidiness that was beyond reproach.
Comprehensive cleanliness serves as a manifestation of the professionalism and exacting standards that guests not only want but have come to expect. It can ultimately be the difference between whether they stay at your facility again upon their next visit or if they'll recommend your rooms to immediate family members, close friends or distant relatives who are coming to Australia for pleasure or business. Rubbermaid Commercial Products are always up to the task and will never let you or your meticulous guests down. From the Microfibre Flexi Frame Mop that's ideal for cleaning hard-to-reach corners, to the Pulse Mop Kit for general purpose floor cleaning, Rubbermaid Commercial Products will help your housekeeping staff tackle spills or eliminate the dirt and debris that inevitably finds its way in from outside.
Cleaning floors is often a two-step process. For hard surfaces, there's sweeping, followed up by mopping. Mopping helps protect scratch-prone surfaces and provides a calibre of shine that sweeping and vacuuming doesn't accomplish.
But as the "slippery when wet" sign warns, freshly mopped floors can lead to accidents, affecting not just your staff but potentially guests as well. These incidents could lead to serious injury.
Rubbermaid Commercial Products prioritise safety. The Executive 33L WaveBrake® mop bucket and wringer system is a classic example. The bucket itself is deep with high sides to reduce spillage and reduces backsplash up to 40% less with the proprietary moulded-in WaveBrake® feature. This improves productivity and helps ensure that only the portions of the floor designed to be wet, get wet.
Maintaining the physical health and well-being of guests in high trafficked areas of a hotel is also about communication. But you don't have to say a word with "Caution Wet Floor" signage. Double-sided and measuring 63 centimetres high and roughly 28 centimetres wide, this foldable sign is a simple, clear-as-day way to warn of slipping hazards to protect individuals from injury and your facility from liability.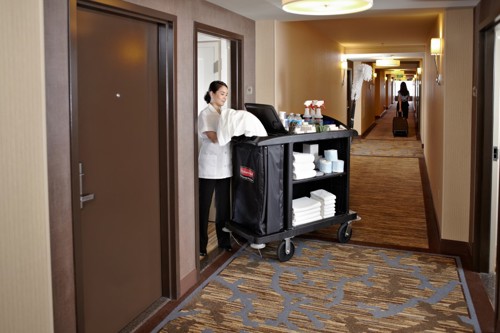 In addition to clean accommodation, guests also greatly desire a clean planet. The problem is many of the disinfecting materials and cleansers available are harmful to the environment, with run-off adversely affecting soils and the air simply by spraying or pouring.
The earth's preservation is extraordinarily important to Rubbermaid , which is why we've designed many of our cleaning products with the environment in mind. This includes the HYGEN Launderable Microfibre System. In addition to its most salient feature - the elimination of approximately 99.9% of microorganisms - the system's patented, microfibre technology has built-in scrubbing power, thereby eliminating live pathogens and food stains without the use of harsh chemical bleaches. Chlorine bleaches are harmful in at least two ways to the planet. First, they emit toxins into the air when sprayed or poured. It may not seem like much when a little goes a long way, but it adds up over time and unnecessarily impairs the earth's ozone layer.
The HYGEN Launderable Microfibre System is also highly durable. When cleaning equipment is no longer useable, they get thrown away in the trash, never to be thought of again. The problem is that these items eventually wind up in landfills that are overflowing, receiving millions of pounds of non-recyclable trash each year. HYGEN is different because not only is it fully recyclable but you can use it again and again so you get as much life out of it as possible. In fact, our industry leading durability allows for up to 500 launderings, and up to 200 with bleach. No matter where or how you use the MIcrofibre System, it's every bit as good in its last application as it is in its first, whether you're cleaning up spills, disinfecting high-touch surfaces or dusting furniture.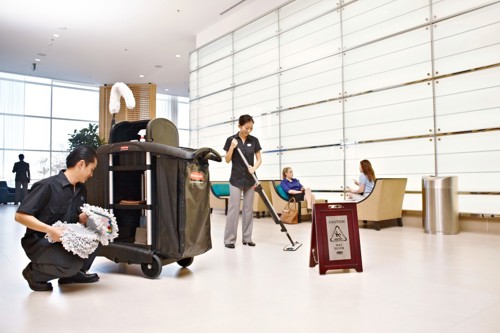 From housekeeping carts that help your staff organise their cleaning arsenal to brushless mechanical sweepers that are as versatile as they are portable, Rubbermaid housekeeping and hotel cleaning supplies are easy to use and available everywhere. Our product line is an ideal solution not only for your tenured staff but also for any subcontractors with whom you may partner. Using the same supplies helps enhance predictability - and makes it easier to coordinate so they can obtain the proper tools on their own.
We back up all of our offerings with a one-year warranty. This means that if the equipment in any way is defective or breaks down within 365 days from date of purchase, we'll be happy to repair, replace or offer a refund. Cleaners will find the reliability they're looking for through Rubbermaid and its line of superior interior commercial cleaning products.
For a calibre of clean that won't let you or travel guests down, Rubbermaid is the gold standard. Contact us to learn more.
RUBBERMAID HOSPITALITY CLEANING SUPPLIES
The only way to get every nook and cranny of each guest room as clean as it can possibly be is with the right blend of hotel cleaning supplies, solutions and resources.