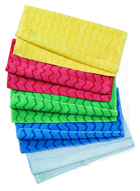 Despite the fact that all commercial operations need to maintain pristine facilities, each industry will have its own specific smart commercial cleaning solution needs.
Healthcare
Having a clean hospital or health care facility goes beyond expectations - it can be a matter of life and death.
Hospitality
Everyone knows the importance of having clean quarters for hotels, motels, hostels, lodges, cabins, and more. Even the slightest bit of dirt or mildew in a single room can do irreparable damage to a hotel's reputation.
Retail
Stores, shops, and supermarkets must remain clean and enticing to encourage customers stick around and return again to keep buying goods.
Restaurants
Simply put, no one is going to eat at a dirty restaurant, no matter how many stars it receives.
Offices
Whether it's for employees, partners, or potential clients, maintaining a clean office space ensures the image of a professional enterprise.
About Our Supplies
For the best commercial solution available, Rubbermaid Commercial Products® has you covered. Our line of durable, commercial-grade products and innovative solutions meet the needs of any industry.
HOW OUR SOLUTIONS HELP
Even if your company outsources cleaning services to a third party, these are all reasons to maintain an easily accessible stash of commercial cleaning supplies at the ready. Below are just some of the ways Rubbermaid commercial solutions continues to reinvent the market with innovative commercial cleaning solutions.
Cleaning supplies and equipment are essential for keeping facilities hygienic and in working order. Rubbermaid commercial cleaning products are designed to be easy to use while helping cleaning staff achieve their desired results as efficiently as possible.
In a healthcare setting, cleaning supplies help to ensure patient and staff safety. Having the proper equipment reduces healthcare costs by preventing the spread of infectious diseases. In hospitality and retail settings, cleaning supplies protect customers from potentially harmful pathogens.
Rubbermaid Commercial Products provides everything a business needs for a basic commercial cleaning set up, including:
Executive janitor cleaning carts

 

provide flexible, high-capacity storage and tool organisation. Made with non-rusting and easy-to-clean aluminium and structural web plastic construction, our cleaning carts are designed with durability in mind.
Microfibre cloths

 

remove 99.9% of pathogen food sources, providing superior cleaning performance.
Professional microfibre spray mops

 

allow cleaning staff to cover more square feet in less time. With an on-board reservoir of cleaning solution, staff can clean floors faster, easier and more effectively.
Wet mops

 

are essential for keeping floors clean. Rubbermaid Commercial Products mop heads are designed with superior absorbing and release characteristics to provide twice the cleaning power of standard mop heads. Plus, they can withstand more than 500 washes, so they don't need to be disposed of as frequently as other mop heads.
Safety signs

 

keep guests, customers and employees safe from spill-related trips and falls.
Proper waste management protects individual health, improves indoor air quality and reduces harm to the environment. Making it easy to separate recyclables from trash ensures that fewer items end up in landfills. When waste products are recycled, fewer materials need to be extracted from the natural environment to make the product again. Whether in a retail store, restaurant or other commercial facility, recycling and garbage cans offer a visual reminder to separate disposable items and keep the indoor environment clean.
In a healthcare environment, special medical waste containers help to protect staff and patients from infectious diseases. For instance, linen hampers keep soiled cloth away from people until it can be properly cleaned and sanitised.
Rubbermaid Commercial Products provides everything a business needs to properly manage waste removal:
Brute® containers

 

are designed with high-quality materials, plus a UV inhibitor to ensure long life. They're guaranteed to never fade, warp, crack or crush.
Brute® dollies

 

are made from durable plastic that resists rust, chipping and denting. Capable of sustaining up to 158 kg (350 lbs), it is the perfect solution for moving heavy loads.
Slim Jim™ containers

 

make it easy for customers to separate waste into categories for efficient disposal.
Without proper material handling equipment, cleaning staff could get injured from hauling heavy items or be exposed to harmful substances. Bulks trucks, carts, trollies and platforms enable cleaning staff to move waste and other items while staying safe. Rubbermaid carts and trollies are designed with ergonomics in mind. They help to prevent unnecessary strains and sprains while promoting work efficiency.
Whether cleaning staff are moving large amounts of waste or transporting supplies around a facility, Rubbermaid Commercial Products® provides the tools to make the job easier:
Xtra™ utility carts

 

can carry loads up to 136 kg (300 lbs) per shelf, providing a more ergonomic method of moving materials.
Collapsible X-carts

 

are highly durable and easy to manoeuvre. Plus, they collapse by 75% to allow for easy storage when not in use.
Side panel platform trucks

 

make it safer for staff to move heavy loads. Their ergonomically designed push handle improves control and reduces the risk of injury.
In the restaurant and hospitality industries, food workers need sanitary equipment to prepare, serve and store food. Having the right equipment makes it easy to comply with local regulations pertaining to food safety. Properly storing food in labeled containers protects against spoilage and prevents cases of food-related illnesses.
Rubbermaid Commercial Products offers solutions that make food safety second nature:
ProSave™ 100 cup shelf ingredient bins

 

with tight-fitting snap-on lids keep food fresh and reduce costly spoilage. A First in, First Out (FIFO) barrier ensures proper rotation of ingredients.
ProServe™ racks

 

allow for safe and easy transport of full-size food pans and boxes. They are designed with soft, rounded corners to protect walls, doors and other equipment from bumps.
Food boxes

 

made from break-resistant polycarbonate provide safe storage for ingredients and prepared foods.
Ice totes

 

reduce the risk of back injury by keeping weight elevated off the floor. Made of durable plastic, these totes are safe for commercial dishwashers.

Soap dispensers, air care solutions and surface cleaners help washrooms to stay hygienic and stop the spread of infections. Handwashing is one of the most effective ways to reduce and eliminate the spread of pathogens. In addition, regular cleaning of washrooms improves visitor health.
Any business, whether in the retail, healthcare, hospitality or food service industry, needs a robust washroom cleaning program. A documented maintenance schedule, combined with adequate cleaning supplies, protects staff members and visitors from harmful bacteria and viruses.
Rubbermaid Commercial Products has a complete line of essential washroom products:
TCell dispensers

 

utilise a patented fluid delivery system to provide a precise dose of fragrance for 60 to 90 days without the use of batteries. This environmentally friendly product contains no propellants.
Flex Manual dispensers

 

help customers and guests to stay healthy by providing foaming hand wash or hand sanitiser.
Baby changing stations

 

are built with antimicrobial plastic to offer superior protection from harmful bacteria.
As a manufacturer of innovative commercial cleaning products, Rubbermaid Commercial Products® remains committed to helping commercial facilities stay clean. From providing durable and easy-to-use products to ensure cleaners can work efficiently and productively, Rubbermaid has the right commercial cleaning solution for enterprises of any size.
Looking ahead, Rubbermaid Commercial Products® continues to innovate new commercial product offerings and re-invent product categories to keep improving cleaning solutions for companies in every industry.