According to an assessment survey conducted on hospitals:
Percentage of respondents that said their facility had dedicated cleaners
Percentage of respondents who claimed that healthcare employees carried out the cleaning of clinical areas
Percentage of respondents that said nursing staff handled these duties
Researchers for this survey concluded that both high and low-income countries needed an appropriate and accessible reference standard for healthcare cleaning solutions.
Hospital Cleaning Solutions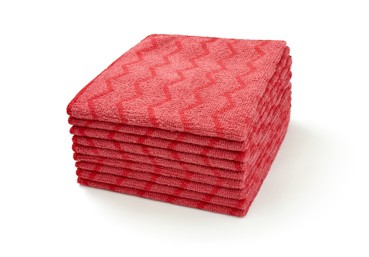 While ensuring patient and resident care and satisfaction is naturally the top priority for healthcare providers, maintaining a clean, sterilised facility is not far behind on the priority list. Doctors, nurses, and aged care specialists simply cannot deliver the best possible healthcare if they are practicing in a room that has not been optimally cleaned or if a resident's room gets contaminated.
Rubbermaid Commercial Products® understands the crucial role played by well-trained cleaning staff equipped with the best healthcare cleaning products in cleaning healthcare and aged care facilities. Rubbermaid remains dedicated to providing durable, high-quality healthcare cleaning solutions for facilities of all sizes.
RUBBERMAID HEALTHCARE CLEANING SUPPLIES
The right healthcare cleaning supplies and products are crucial for cleaning facilities and maintaining rigorous infection control. An effective healthcare cleaning solution also bolsters the facility's image and perception, which further increases patient satisfaction. Consider this sample of different products for different hospital areas, health clinics, and aged care facilities available from Rubbermaid Commercial Products®
Rubbermaid HYGEN™ disposable microfibre cloths and mops utilise built-in scrubber technology along with a 99.9 per cent microbe removal claim. This makes HYGEN™ microfibre system the ideal solution for streak-free and deep-cleaning environmental hygiene. The microfibre cloths are compatible with quat and both the mops and cloths are safe to use with bleach.
Healthcare cleaners can use HYGEN™ microfibre cloths and mops for these recommended applications:
 Occupied Patient Room
 Discharged Patient Room
 OR Terminal
 ER
 ICU/Isolation Room
 Nurses' Station
 MRI/X-ray Station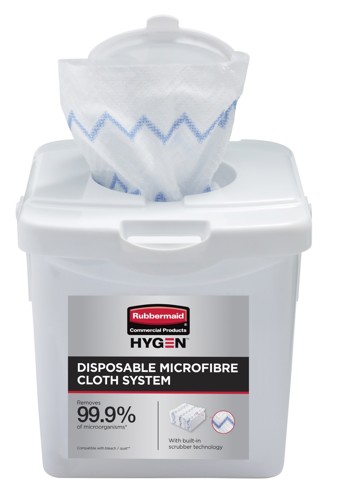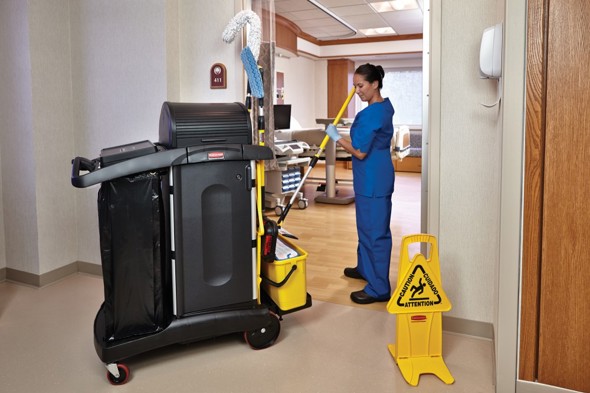 A regular mop and bucket are insufficient for effectively cleaning the floors of a healthcare or aged care facility.
That is why Rubbermaid designed the executive HYGEN™ Microfibre Charging Mop Bucket in conjunction with Rubbermaid HYGEN™ Microfibre Damp Mops and Quick-Connect tools. These provide healthcare cleaners with a "no touch" system that is safe for use in MRI rooms. The charging bucket's design prevents oversaturation of microfibre mops and reduces cross-transmission and contamination when swapping mops for different rooms.
The bucket also features a built-in measuring guide for cleaning and disinfecting solution that, when effectively used, allows for cost-effective supply management and more efficient cleaning of floors.
Going from room to room and from clinical areas to operating theatres, requires a mobile cleaning cart that is still large and organised enough to efficiently get the job done quickly.
Rubbermaid Commercial Products® offers high-capacity and high-security cleaning carts specifically designed for healthcare and aged care facilities. The high-capacity healthcare cleaning carts come equipped with additional storage and waste space. The high-security cleaning carts include locking cabinet doors and hood in addition to removable disinfecting caddies.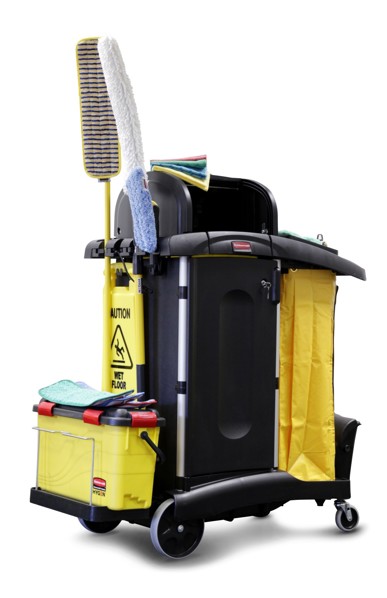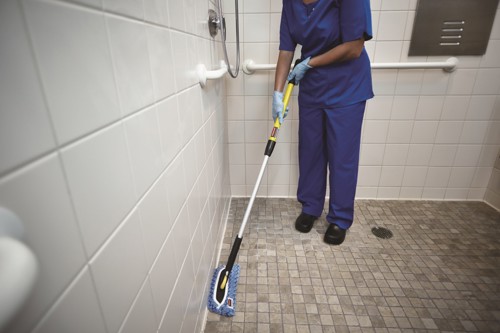 For healthcare facilities to get a truly deep clean, they need the right cleaning chemicals and agents that effectively counteract infection-causing pathogens and bacteria. This includes the cleaning of equipment and cleaning of other surfaces. However, overexposure to these harsh chemicals and agents can make general commercial cleaning equipment deteriorate over time.
The Rubbermaid HYGEN™ Flexi-Frame is constructed with proprietary material capable of withstanding bleach and peroxide degradation while still removing 99.9% of microorganisms.
Rubbermaid's PVC-Coated mesh headband mops resists chemicals while many of Rubbermaid's cleaning carts have chemical and water resistant surfaces.
Staff should always check with a manager before using any chemicals or agents in conjunction with a specific piece of cleaning equipment. Sometimes chemical-free options are more appropriate. The damp mopping microfibre pads of Rubbermaid's PULSE Mop Kit are a lightweight cleaning solution that staff can use with or without chemicals. Plus, these pads can be used hundreds of times with regular washing.
As a manufacturer of innovative healthcare and aged care cleaning solutions, Rubbermaid Commercial Products® remains committed to helping healthcare facilities keep clean and improving patient care and overall satisfaction. From providing durable and easy-to-use healthcare products to ensuring cleaners can work efficiently and productively, Rubbermaid has the right healthcare cleaning solution for facilities of any size or practice.
Looking ahead, Rubbermaid Commercial Products® continues to innovate new healthcare product offerings and re-invent product categories to keep improving cleaning solutions for hospitals and health care providers.
The four factors of cleaniness
Download our whitepaper to determine if your organization's cleaning system covers them all
Get in touch with our team of experts for more information on Healthcare cleaning guidelines or product solutions for your business.