Rubbermaid's Touch Free Hand Sanitiser Dispenser Options
Truly disinfecting and killing germs is easier said than done — but with Rubbermaid, it doesn't have to be a headache. Rubbermaid's touch free hand sanitiser dispensers and hand sanitiser gel are effective solutions to keep your employees and customers safe. A wall mounted hand sanitiser dispenser can be easily hung in any heavily trafficked areas, ensuring the people you serve have easy access to disinfectant. Encourage good hand hygiene practices and help people fight off germs in all areas of business — whether you place the foaming hand sanitiser dispenser in a commercial kitchen, medical facility, gym, school, bathroom or office. And, our touch free sanitiser dispenser options are created to be used consistently, meaning they can handle extreme use.

Wherever you're located, Rubbermaid can deliver you the best possible touch hand sanitiser, hand sanitiser foam and similar products — like we've been doing for over 50 years. By setting up a hands free hand sanitiser station, you can reduce exposure to harmful bacteria and stop the spread of germs. Make your organisation known for its customer service and top-notch sanitation procedures by investing in an automatic hand sanitiser dispenser or wall mounted hand sanitiser dispenser.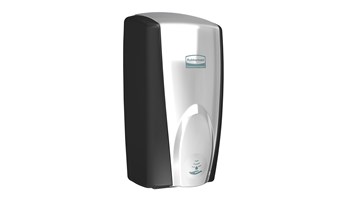 AutoFoam Dispenser – Black/Chrome
SKU: FG750411
The AutoFoam Touch-Free Skin Care System provides the highest quality foam soap in an attractive touch-free dispenser that delivers superior cost savings.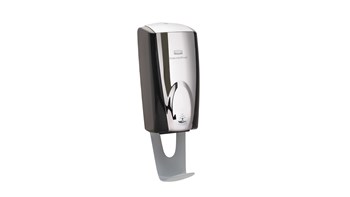 AutoFoam Drip Tray
SKU: 1892265
The AutoFoam Drip Tray is compatible with AutoFoam and AutoFoam with LumeCel™ Dispensers. Works as a simple solution that can help improve your facility's safety and image.