As one of the newest innovations from Rubbermaid Commercial Products, The Wheeled BRUTE prioritises movement, durability and ergonomics to change the way that waste management is done. It has already been well-received by businesses looking for a way to move heavy loads up to five times easier, even in areas where waste management was once difficult, such as over rough terrains or across large businesses. 
Made with all industries in mind, The Wheeled BRUTE is the waste bin that all cleaning staff and employees can benefit from. The following blog further explores why this is the case. 
The Wheeled BRUTE has never-flat wheels
Using DuraTread technology, the Wheeled BRUTE can be wheeled over all sorts of terrains, from rocky paths to grass and hot concrete without the fear that its tyres will go flat. This is most beneficial to businesses in the education space where cleaners may need to wheel bins across campuses, car parks or grassed areas to ensure waste is processed correctly. However, this technology is also beneficial to any business that may accompany a large space, such as hospitals or hotels, as it provides the guarantee that the wheels will always roll as intended. This can prevent staff from getting stuck between waste management trips, which can slow down the cleaning process and even elevate the risk of pathogens spreading throughout the premises. 
Due to its power over various terrains, The Wheeled BRUTE also shows efficiency across sites where construction may be getting carried out. Primarily, this is because cleaners will not need to worry about the wheels going flat due to sharp or rough terrains. 
The Wheeled BRUTE requires less force 
Regular waste bins require heavy force when fully loaded. If not careful, this can lead to musculoskeletal injuries in staff, which can prompt time off and high worker's compensation costs. Unlike regular wheeled bins, The Wheeled BRUTE has been designed with ergonomics in mind. With loads of up to 113 kg, this means the bin requires significantly less force to pull and drag, which can limit the chances of wrist, finger, arm, shoulder and back injuries on the job. 
The reduced force is beneficial across businesses of all industries but is particularly advantageous for those handling heavy loads, such as food-service businesses with heavy customer bins. It also means that bins may not need to be changed as frequently, so long as they do not present any bacterial threat. These changes can improve sustainability by cutting down on single-use plastic rubbish bins.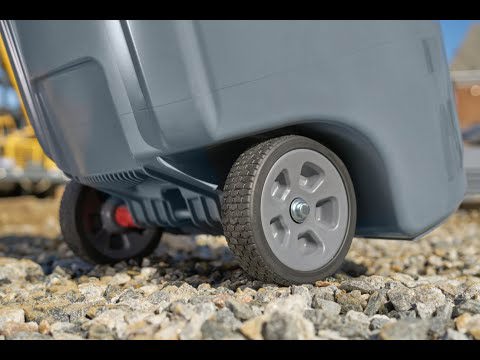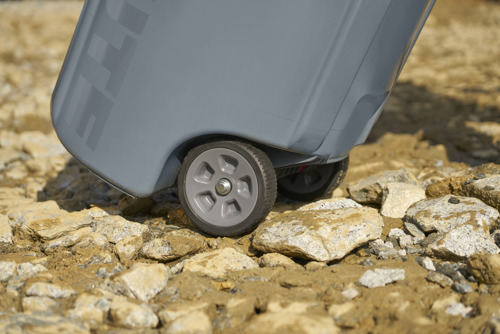 The Wheeled BRUTE guarantees proper posture
Following on from the above, The Wheeled BRUTE has been specifically innovated to prevent workplace injuries due to poor posture. Due to its shape, size and handle placement, The Wheeled BRUTE encourages proper posture when in use. Doing so reduces the likelihood that workers slouch or hyper-extend, which can lead to significant time off and workplace compensation payments. 
The correct posture also means that staff will use all their shoulder, back and arm muscles to wheel the bin from location to location. This means they are not putting excessive pressure on their arm muscles, which is another route for injury. For businesses in all industries, this can elevate the chances that the entire workforce is fit to work at all times, which can eliminate pressure on staff and potential high turnover due to the stress of staffing shortages. 
The Wheeled BRUTE enhances efficiency in all businesses 
Alongside preventing injuries and damage to the bin, the ergonomic structure of The Wheeled BRUTE has also been crafted with the intention of making businesses more efficient. For example, the venting channels in the bin make it easier to lift bin liners out of the bin, even those that are incredibly full. This can significantly cut down time as employees will no longer need to heave for minutes on end or enlist the help of a co-worker to guarantee that bin liners are emptied and replaced on time with their designated cleaning schedules. 
The Wheeled BRUTE is made to last 
At Rubbermaid Commercial Products, we know the importance of cost-efficiency in businesses. So, like all of our innovative products, The Wheeled BRUTE is made to withstand the test of time. Constructed with the highest quality materials and a UV inhibitor to ensure a long life in even the most extreme conditions, The Wheeled BRUTE saves businesses in all commercial environments the cost of constantly replacing their current waste bin solutions. It is a long-term solution to waste management and can be used in a number of environments too, from the back-of-house to the front-of-house. 
The durability claims of The Wheeled BRUTE have all been tested against strict quality standards and against similar products available on the market. Click here to find out more about the benefits of The Wheeled BRUTE.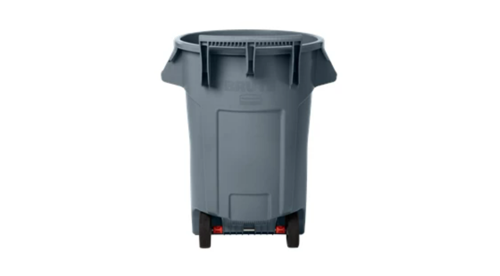 Rubbermaid Commercial Products is here to help 
At Rubbermaid Commercial Products, we understand that making the switch to a new product can be scary and uncertain. For this reason, we are always happy to answer any questions you may have about The Wheeled BRUTE and the benefits of adopting it in your commercial business. Contact us today to speak with one of our experts and get started.